The BudgIT Sierra Leone team, led by Alhassan Sesay and Daniel Conteh, met with officials from the Parliamentary Budget Office (PBO) (Mr. Ibrahim Jimissa-Director, Mr. Faiz Abdul Rahman-Deputy Director, Mr. Hallie Tengbeh-Senior Financial Analyst and Philip George-Senior Budget Analyst) on January 24, 2023, to discuss collaboration to improve budget transparency in the country.
The Parliamentary Budget Office (PBO), established in 2017, is the primary hub for unbiased budget, economic, and fiscal research, and analysis aimed at improving the effectiveness of Parliament's oversight, legislative, and law-making functions in the national budget process.
The PBO is charged with providing technical assistance to Members of Parliament (MPs) in macroeconomics, public financial management, accounting, taxation, and public policy to improve the quality of debates and laws enacted.
They are also tasked with providing simplified documents on budgets, bills, and other related issues for parliamentary action, which are simplified and presented for MPs' ease of understanding. Bill Costing: The department is responsible for determining and costing money bills and informing MPs of the results. Analytical Reporting: The department provides parliamentary committees with analytical reports on macroeconomic and fiscal issues, as well as specific government programs such as health care, security, education, and energy.
Support for Improving the National Budget Process: The department provides training and technical assistance to improve the national budget process through collaborative work with the Committees Department and selected committees.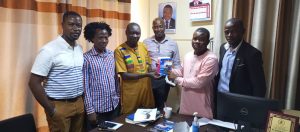 Presenting BudgIT Sierra Leone's report  to the PBO team
To improve budget transparency in Sierra Leone, we approached the PBO about possible collaborations and identified areas where both institutions could increase budget access. The BudgIT Sierra Leone team presented a simplified analysis of the 2022 national budget and the Health Sector Accountability Report, which was created to improve the health sector.
BudgIT provides technical assistance in developing visually appealing designs as well as training to improve their reports and simplify mandates through this collaboration. The PBO will share data and information on the budget, taxation, and other macroeconomics with us while increasing BudgIT's visibility through regular exposure on their platforms.
We look forward to signing a Memorandum of Understanding and working with the PBO.